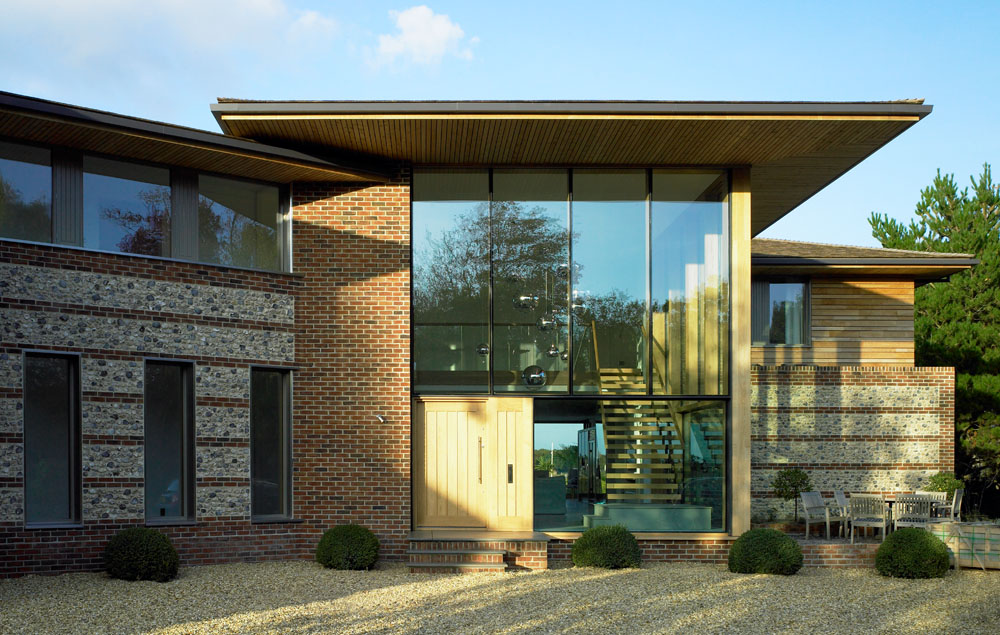 River House
A new five bedroom house overlooking Itchenor Reach with the South Downs beyond. Arranged around a large, open plan living space, the southern end is a double height, glazed entrance hall, which allows sunlight deep into the plan. To the north a sliding glass corner opens onto a terrace with panoramic views over the landscape. At the heart of the sun-filled space is a structural glass staircase with solid oak treads. The secondary living spaces and bedroom are contained in the more private east and west wings.
The house has brick and flint walls with oak framed windows, a modern interpretation of the local Sussex vernacular. The upper parts of the house are clad in English sweet chestnut and a cedar shingle roof, both will weather in time to a silvery grey.
The Clients wanted their home to use sustainable materials and have the minimum carbon footprint. The sweet chestnut cladding and shingle roof are locally sourced as are the cobbled flint and bricks. Passive measures were developed using computer modeling of the sunpaths so the house captures abundant warmth and light in winter and has large overhanging eaves to provide shade and cool in summer. Heating and hot water are provided by a ground source heat pump system.
Itchenor , West Sussex